Welcome to 2023
Welcome to 2023! Many will hope that it is an uneventful year in regards to interest rates and the RBA where we have come off record increases to the cash rate.
This article takes a look at a review in interest rates for 2022, an indication for where we will be heading in 2023 and what the RBA increases actually mean for your home loan rates.
2022 in Review
The RBA passed on consecutive increases from May to December for a total increase of 3% to the starting base rate of 0.10%. In an effort to quell inflation the rate increases started with a 0.25% increase in May which was followed by 0.50% increases over the next 4 months. In the last quarter the increases continued by 0.25% in each month.
As the RBA chart below shows this was one of the steepest series of rate rises in recent history and brought rates back to 2012 levels.
Whilst the rates slowly trickled down over 8 years they rose to historical levels in 8 months.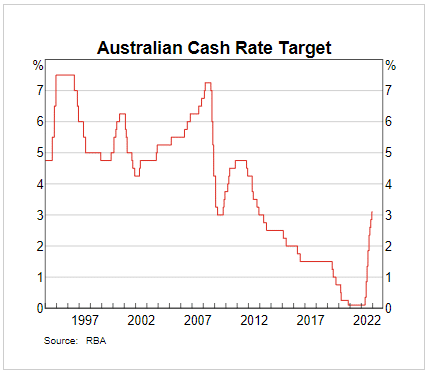 Where are we headed for 2023?
Forecasting the direction of rates is always a tricky business and there would be very few who would have predicted the RBA activity for 2022.
This includes the RBA itself and in fact RBA Governor Philip Lowe issued an unprecedented apology late last year as he had previously indicated rates would not rise until 2024.
Take any forecasts with a grain of salt, but the banks all publish their own rate forecasts and the common consensus is that there are some more rate rises to come which will be followed by decreases leasing into 2023 and 2024.
CBA: 3.35% by February 2023, then dropping to 2.85% by November 2023
Westpac: 3.85% by May 2023, then dropping to 2.85% by November 2024
NAB: 3.60% by March 2023, remaining steady into 2024
ANZ: 3.85% by May 2023, then dropping to 3.60% by November 2024
Efficient Tip – Westpac publishes weekly economic reports that can be easily accessed (Google search Westpac economic weekly). Once again don't base financial decisions on these forecasts but the reports do have lots of useful information on what's happening in the economy.
How does this impact my rate?
When the RBA increases the cash rate the banks all tend to pass on the same increase to their own base rates. This means that the base rates for the various banks will have likely increased by 3% across the board.
The trick is that banks price loans based on the base rate less applicable discounts. In many cases the discounts provided have become greater since May meaning the true increases seen by home owners is less than 3%.
Efficient Capital Solutions has been tracking this since the start of the financial year by recording pricing a basket of home loans. This is based on a $800,000 loan at 80% LVR and the results are below.

In 4 out of the 6 months the average increase across the 4 banks in the same was less than the RBA increase. The banks were providing better discounts to newly priced loans as a way of easing the overall burden on borrowers.
As a further pointer this is happening – the average rate is now sitting just under 5% but prior to the rate increases a variable rate of sub 2% was unheard of!

A similar effect is happening with basic or non packaged loans however in this sample the non bank used has slightly higher rates than peers.
Data is collected in investment loans too and will be reported in future articles.
This means that there are ways to protect against the rate rises:
Banks are pricing new loans more favourably than existing loans
Refinancing is one way to ensure the best possible rates are achieved
Given the ease of refinance banks are now working harder to keep existing customers, some banks are better to work with than others but many now do give competitive rates on a re-price
Efficient Tip – many non packaged loans cannot be priced so it is worthwhile to consider the package for this future rate benefits.
We are here to help and have been able to assist with many rate reviews, home loan switches and refinances. Efficient Capital Solutions has a team dedicated to completing these activities.
Reach out with any enquiries at info@efficientcapital.com.au or contact your broker
Any advice and information on this website is general only, and has been prepared without taking into account your particular circumstances and needs. Before acting on any advice on this website you should assess or seek advice on whether it is appropriate for your needs, financial situation and investment objectives.