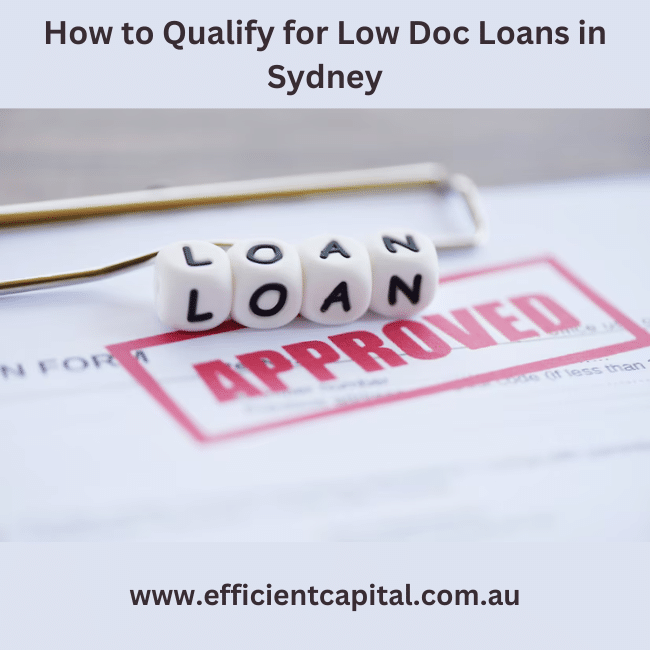 How to Qualify for Low Doc Loans in Sydney
For self-employed individuals, freelancers, and small business owners in Sydney, low doc loans provide a flexible financing option when traditional income documentation is not readily available. Low doc loans, or low documentation loans, cater to borrowers with non-standard income sources or fluctuating income streams.
This article will highlight key factors to consider and steps to take to qualify for low doc loans in Sydney.
Gaining Comprehensive Knowledge of Low Doc Loans
Low doc loans are specifically designed for borrowers who need help to provide the conventional income verification documents required for traditional loans. These loans acknowledge that self-employed individuals and small business owners may have varying income patterns or limited employment histories. With low doc loans, lenders offer an alternative approach to assessing a borrower's creditworthiness by considering alternative documentation. These loans typically involve a streamlined application process and may require a higher deposit or interest rates than standard loans.
Eligibility Criteria For Low Doc Loans
Self-employed or small business owner is most likely to qualify for low doc loans in Sydney. Since traditional income documentation may be unavailable, be prepared to provide bank account statements, income tax returns and accountant's declaration. Lenders will also review your credit history to assess your repayment capacity. Maintaining a good credit score and demonstrating responsible financial behavior will significantly improve your chances of qualifying for a low doc loan.
Researching Lenders and Loan Products
While applying for low doc mortgage loans or any other type of low doc loan, you must check for the lender's reputation and experience. You can read customer reviews to know more about their low doc loan rates and reliability. To secure a competitive low doc loan rate, you can compare the interest rates offered by different lenders. Also, while selecting the right lender for your low doc home loan, you must evaluate the repayment criteria and any additional features the lender offers. Some lenders may provide flexibility in terms of repayment schedules and loan structuring.
Maintaining Documentation
Your bank statements are crucial document that reflects your income deposits and savings. These statements will help lenders assess your creditworthiness. Your profit and loss statements determine your financial health if you own a business. You must submit your personal and business tax returns for the previous two years to substantiate your income claims for securing a low doc home loan in Sydney.
Qualifying for low doc loans in Sydney is a valuable financial instrument for self-employed individuals, freelancers, and small business owners. You can navigate the process by understanding the requirements of low doc home loans, exploring low doc loan rates, and taking the necessary steps to secure a low doc mortgage loan. It is an excellent financial support for those who need money for emergencies. Implementing the criteria mentioned above, you'll be well-equipped to access the funds you need to achieve your financial goals in Sydney.
At Efficient Capital, we are committed to providing low doc home loan rates to our customers and helping them secure the desired financial support. To know more, contact us.